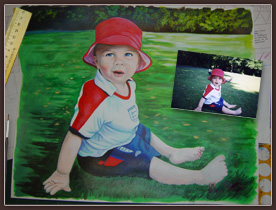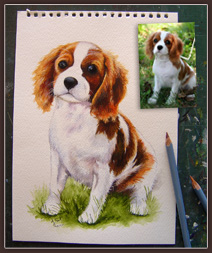 I only create 100% hand drawn or painted artwork, using traditional skills to capture the person or animals characteristics.
All portraits are painted or sketched from photos supplied by customers. I will take all due care with all photos supplied, but please do not send any irreplaceable materials!

Prices and sizes (for guidance only)
Postcard size
—
Pencil Sketch £20
Coloured Pencil Sketch £30
A5 size
—
Pencil Sketch £35
Coloured Pencil Sketch £45
Watercolour Painting £55
Acrylic (on canvas board) £75
A4 size
—
Pencil Sketch £50
Coloured Pencil Sketch £60
Watercolour Painting £75
Acrylic (on canvas board) £95
A3 size
—
Pencil Sketch £65
Coloured Pencil Sketch £75
Watercolour Painting £95
Acrylic (on canvas board) £110
Greeting Card
—
4.5" x 6.5" Pencil Sketch £25

Coloured Pencil Sketch £35
(Please note that Greeting cards can have standard wording supplied on the front if required i.e Happy Birthday, Happy Christmas etc at no extra cost but all cards are left blank inside)
All prices are based on 1 head per portrait and on plain white backgrounds, if you require plural heads, full body or backgrounds adding, then prices may vary accordingly, so please contact me for a more accurate price.
Prices shown are for guidance only and do not include post and packaging.